Legal Poker Guidelines FAQ New Zealand 2019
Legal poker has been played in New Zealand brick-and-mortar casinos since the first casinos were established. Casinos that were granted licenses to operate by the government have been offering legal poker for decades. However, Kiwis are still uncertain about the legality of online poker. This could be due to the fact that it's still relatively new to the country – especially compared to land-based poker – and that operators of poker sites are sometimes based outside of NZ.
In our FAQ guide, we answer all the commonly asked questions about legal poker.
Best Legal Poker Sites for NZ Players
Gambling and online poker is a huge part of New Zealand's gaming culture. Also, it has been around for centuries brought across the oceans by the Europeans. With the Gambling Act of 1903, the popular activity was now only allowed at racetracks. In 1951, laws around gambling and poker became more relaxed. Then New Zealand's first legal casino was opened in 1994 in Christchurch. Currently, there are six legal Kiwi casinos.
The rise of NZ casino sites has done a lot to change how Kiwis gamble. And, legislators have had to adapt laws around the booming billion-dollar industry. Having an online casino operating in New Zealand is illegal. However, if gamblers are over 18, they can legally play at gambling sites based overseas.
Legal Poker Online FAQs:
Is Online Poker Legal in NZ?
Yes, online poker is legal in New Zealand. However, these poker room sites aren't allowed to be operating and based in the country. Playing poker at legally licensed offshore poker sites is not illegal and doesn't violate and of the NZ gambling laws.
What Protects Kiwi Gamblers Playing Poker Online?
Gamblers are protected by the licensing body and regulator that issued the license to the casino operator. They take this role very seriously and investigate any complaints to protect players from unfair casino practices. Remember, if a casino is found to have violated their terms and conditions, they risk losing their license and getting blacklisted.
New Zealand's Gambling Act of 2003 is the legislation that regulated gambling in the country. The regulations in this Act don't allow Kiwis to play at online casinos in the country. Furthermore, they also forbid online casino operators from setting up in the country. This frees the government from any liability that comes with gambling online.
Who is Responsible for Gambling Laws in New Zealand?
The gambling laws are regulated and enforced by the Department of Internal Affairs (DIA). They oversee that both land-based and offshore casinos don't violate any rules around gambling, whether it be through advertising or other business practices. If a player has any problems with a casino site, the DIA doesn't resolve the issue, the casino's licensing body does.
The DIA also makes sure that a percentage of profits made by NZ's six casinos is returned to the community.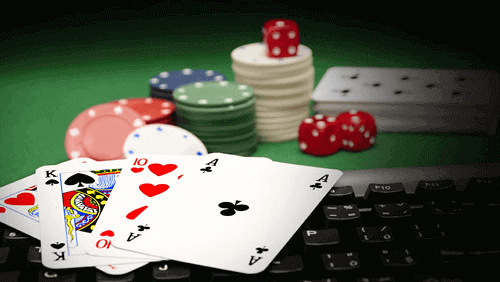 Where Can I Find Safe and Legal Poker Sites?
You can find safe and legal poker sites here at Kiwi Casinos. Our recommended casinos are based and licensed by offshore bodies, and they have been vetted by our gambling sites experts.
Note that our sites cater to Kiwi gamblers and are not based in New Zealand. As stipulated by the Gambling Act of 2003, a safe and legal poker site for Kiwis isn't allowed to be based in the country. So, look out for casinos that claim to be based in New Zealand.
Legal Poker Sites – Which Types of Poker Can I Find?
Legal poker sites offer a variety of good quality poker games that are built with the latest software. Players will find multiple variations of poker like Texas Hold'em, Caribbean Stud, and Omaha to name a few.
Are There Any Bonuses Offered at Legal Poker New Zealand Sites?
Yes, there are! Our featured legal poker sites have some great bonuses that extend beyond poker. Read our reviews on them, or visit the site to learn more about what they have on offer.
Do I Have to Pay Taxes on my Poker Winnings?
Generally, players don't have to pay taxes on their online poker winnings. However, it has been reported that some players have been required to pay taxes. But this happened when they were determined to be professional poker players and their winnings were their primary source of income.
More guides on poker:
Our Reader Score
[Total: 13 Average: 3.6/5]